Tommy Reid – CEO/Producer/Director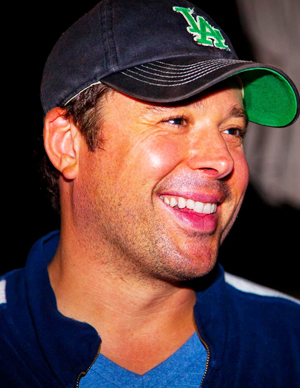 In 1998, Tommy Reid started Dundee Entertainment, LLC, an entertainment production and development company focused on commercial concept films at cost conscious budgets. Tommy is an accomplished, award-winning Director, Producer, Creative Executive, and Entrepreneur with over 20 years' production experience. In addition to his successful feature film & documentary productions, he provides senior level business, brand and marketing consulting for companies that are optimizing creative content on the digital and social media platforms.
Tommy has an expertise in story research and development, production strategy, digital marketing, and film distribution. He is a highly resourceful and an effective leader with a solid track record of managing multiple projects on tight timelines and brings a cost-conscious eye on the budgets to his projects.
Reid has a proven ability to negotiate and execute complex agreements, talent contracts and film distribution deals while overseeing production budgets ranging from $25K to $16M. Tommy is innovative and has a strong entrepreneurial spirit. He consistently takes a story, builds a strategy and creates a product that results in a solid return for his investors.
His projects include the 2011 independent-hit feature film, KILL THE IRISHMAN, which was theatrically released by Anchor Bay. Dundee partnered with Code Entertainment for the production. In addition, Dundee also secured a distribution deal with Anchor Bay for the non-fiction documentary film on the subject, titled DANNY GREENE: THE RISE & FALL OF THE IRISHMAN. The acclaimed documentary was A-rated by The Cleveland Plain Dealer and had 7 sold out shows at the Cleveland International Film Festival in 2011. It was also released in 12 theatres nationwide and is available on DVD, and all major VOD platforms.
The feature film STRIKE starring Tara Reid, Vinnie Jones, Ray Wise, Vincent Pastore, Robert Carradine, Rachel Hunter and Ross Patterson. STRIKE (June 2009) is released domestically by Anchor Bay on DVD.
Reid then directed and produced the feature, SCREWBALL: THE TED WHITFIELD STORY, a mockumentary/spoof on the backyard sport of Wiffle-ball. It is released (2011) in DVD by Anchor Bay and is available on all VOD platforms.
Tommy directed and produced the feature documentary "$uperthief: Inside America's Biggest Bank Score." The documentary sold out 6 screenings at the 2012 Cleveland International Film Festival and had a 5-theater regional theatrical release. The documentary is available on all VOD platforms (Amazon, iTunes, Google Play) and an adaptation for a feature film in active development.
In 2013, Tommy co-created, directed and produced a cooking / health & nutrition app (a video cookbook) that will launch called "CHEF JIMI: COOKING WITH A CAUSE." Chef Jimi's "Cooking with a Cause," is aimed at parents and caregivers of children with special needs and dietary issues. Chef Jimi's practical advice, tips and tricks give you creative ideas and solutions for delivering nutrients and healing to your child. As a professional chef and the father of a child with Autism, Chef Jimi knows the struggle these parents and caregivers are going through, and practices what he teaches on a daily basis.
In 2014, Tommy won an Annie Award Certificate of Merit for the hit documentary "I KNOW THAT VOICE" that puts a face to the voices we all know and love in the cartoon, animation and video game industry. "I Know That Voice," a documentary that reveals an exclusive look into the mysterious lives and humor of the actors behind the cartoon voices beloved by millions. The extensive all-star cast also features Matt Groening (The Simpsons), Tom Kenny (SpongeBob SquarePants), Seth Green (Robot Chicken, Family Guy), Billy West (Futurama, The Ren & Stimpy Show), Tara Strong (The Powerpuff Girls, My Little Pony), Jim Cummings (Winnie the Pooh), and more than 100 other talented voiceover actors from cartoons across the ages.
Later in 2014, Tommy was hired as a creative consultant to work on iconic filmmaker's Oliver Stone's feature documentary "Ukraine on Fire." Reid collaborated with the director and the editor to help shape the documentary's story structure and also interviewed the acclaimed reporter Robert Parry, the American investigative journalist best known for his role in covering the Iran-Contra affair for the Associated Press and Newsweek.
In 2015, Tommy was hired to produce and direct the feature documentary, "We The People: The Market Basket Effect" which was narrated by Michael Chiklis and produced by Ted Leonsis and NBTV. WE THE PEOPLE documents the epic six-week boycott of Massachusetts-based Market Basket supermarket chain in 2014 after beloved CEO Arthur T. Demoulas was deposed by his cousin, the company's majority shareholder. Market Basket's 25,000 employees and millions of supportive customers boycotted of all 71-stores, turning a billion-dollar corporation on its head. "We The People" won the 2015 Boston Film Festival: Audience Award, and 2016 Telly Award: Best Documentary.
In 2016, Tommy was hired as an Executive Producer by Tongal, a leading global crowd-sourced content provider, that creates strategic content for Fortune 500 Companies/Brands, major Advertising Agencies, and the top Hollywood Production Companies to ideate, develop, produce and deliver the best creative content that aligns with each brand's strategic marketing initiatives, mission, and purpose.
Today he lives in Manhattan Beach, CA with the loves of his life, his wife and two children.