With the massive popularity of home theaters, tablets and smart phones, Video on Demand is increasingly the preferred way people consume media.
Through video on demand, a film can immediately reach an enormous audience of over 1 billion worldwide homes. In North America alone, video on demand for films is now a multi-billion dollar a year business that is expected to continue to show double digit annual growth.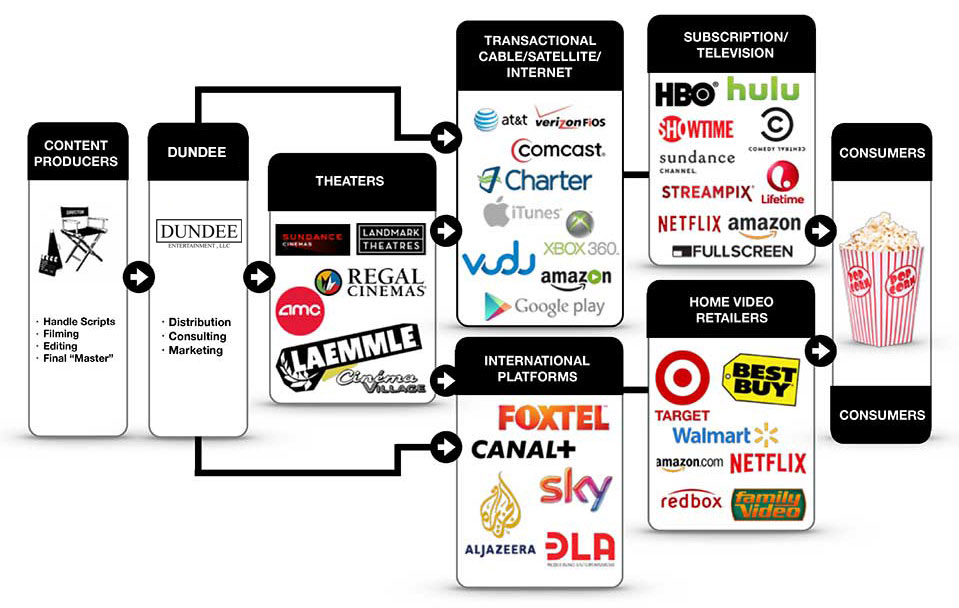 Why Dundee for Digital Distribution?
Dundee Entertainment was started as a VOD company; and it continues to be our daily focus. At Dundee, we live and breathe VOD all day long in all its forms: Transactional VOD (cable, telco, satellite and online platforms), Subscription VOD and Ad-sponsored VOD. We focus on what we do best in order to put your film in front of the most global movie lovers to deliver real financial results.
The VOD marketplace is highly nuanced and rapidly evolving. Know that we won't only rely on our experience, but that we'll also keep our finger on the pulse of the marketplace. While VOD has been, is, and will continue to be our focus as the fastest growing business model, we are well positioned to help navigate all windows of distribution: Theatrical, Non-Theatrical, VOD, Airlines, Hotels, Home Video, and Television.
One of the things we are most proud of is our relationship with filmmakers. We believe we offer the most filmmaker friendly deals in the industry and are remarkably candid and transparent in our dealings. We appreciate when partners call us attentive and detail oriented. As a team our goal is to respond to every call or email if not within minutes then within 24 hours.
We focus on marketing tactics that will work in VOD. Having distributed filmed entertainment including feature films, documentaries, and event programming, we have the experience to know what works and what does not. We'll work together with you to effectively market your productions.
*Dundee Entertainment believes in transparency. Thus, upfront, we have a set our company's Sales Commision as a flat twenty-percent (20%) of the deal we obtain from our VOD aggregators.
Submit Your Film For Consideration
Looking to distribute your feature length film in over a billion homes? Submit your film by an email to [email protected] and we'll be happy to review.
(Please note, we do not accept films that are: 1) in development, pre-production, or production; 2) foreign language. Required deliverables include but are not limited to E&O insurance, HD masters, trailer, artwork, and closed captions.)